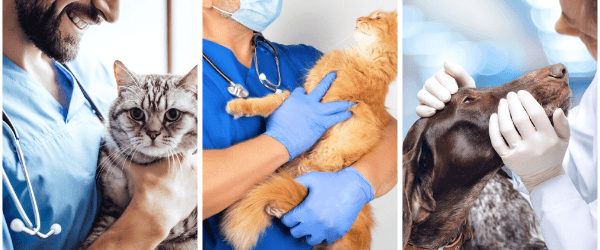 Why Meriden Animal Hospital:
Meriden Animal Hospital, MAH, a progressive privately owned small animal practice, has been serving Meriden and the surrounding area for over 50 years. The four veterinarians and staff at MAH have a long history of providing excellent care and have a deep commitment to the pets and families in our community. MAH offers a unique blend of state-of-the-art equipment and services within its newly renovated facility, but with a "home-like" feel that is appreciated by clients and staff alike.  The hospital leadership team makes sure that the hospital environment is empowering, open, and straightforward, always challenging the status quo and making sure the staff grows not only as employees but as individuals in life. 
Current Openings:
At MAH, we are known for serving our patients and clients with compassion, empathy, and integrity. We are always looking for dedicated and enthusiastic individuals who are eager to help us continue providing the best care and service to our patients and clients. If you believe your values match those of our practice and you would like to be part of an outstanding team, we would like to hear from you. For inquiries regarding employment at Meriden Animal Hospital, please visit our postings on Indeed.
Are you looking for:  
A non-corporate practice that is vibrant and growing 

A practice that is newly renovated, with 7 exam rooms, digital x-ray, ultrasound, and an in-hospital lab

An empowering environment with a leadership team that is here to support your growth

Interesting, diverse, and challenging cases with available mentorship if needed

Manageable caseloads

Commitment to maintaining Work+Life Balance
Package and Benefits:
Meriden Animal Hospital offers a great package for your physical, emotional, and financial wellbeing that includes:
Competitive Salary 

For Veterinarians – Compensation packages including Base Salaries with % Production

Signing Bonus (For Veterinarians)

Relocation Reimbursement (For Veterinarians, if applicable)

Health Insurance (

UnitedHealthcare Oxford)

Sick Time

Paid Time Off

401(k) & Roth Retirement Savings Plan, with a 3% employer match

Profit-Sharing Plan

Continuing Education Allowance

Pet Discounts

100% Liability Coverage (For Veterinarians)

100% Licensing Coverage (For Veterinarians)